Notes
Cooking in the Archives: Bringing Early Modern Manuscript Recipes into a Twenty-First-Century Kitchen
July 2015
¶ 1 Leave a comment on paragraph 1 0 Often, academic scholarship in the humanities leads to written work: a paper, an article, a chapter, a book. Academic scholarship can also produce batches of cookies, bowls of pudding, and pots of soup. Our public food-history project, Cooking in the Archives: Updating Early Modern Recipes in a Modern Kitchen, seeks to find, cook, and discuss recipes from seventeenth- and eighteenth-century manuscript recipe books held by the University of Pennsylvania's Kislak Center for Special Collections, Rare Books and Manuscripts.1 Cooking in the Archives connects readers to an accessible archive of historical recipes. We believe that these historical recipes belong in the modern kitchen – that they can and should be read and enacted as instructions, as well as studied as archival texts from a specific historical period. After all, what are recipes if not primarily instructions for cooking?
¶ 2 Leave a comment on paragraph 2 0

MS Codex 252, 100-101.
¶ 3 Leave a comment on paragraph 3 0 The category "recipe book" is used as a shorthand term for an unruly archive of manuscript codices that predominantly contain "receipts" for culinary and medicinal preparations: from furniture varnish to sugar candy, face cream to macaroons. These books come in many different sizes, formats, and lengths. Oftentimes they reveal nothing or very little about their authors. Many contain multiple hands; some contain scattered dates. Some include notes on specific recipes—source attributions, ambiguous ticks, an occasional "the best"; others reveal few discernible signs of use.
¶ 4 Leave a comment on paragraph 4 0 Part of the challenge of working with these recipes is paleographical: simply deciphering the words on the page is often the first hurdle in reading a recipe. But once we have transcribed the recipe, whether with relative ease or after a process of squinting and debate, what happens next? What can you do with seventeenth- and eighteenth-century recipes? For our project, "updating" culinary instructions from early modernity means making them legible, available, and recognizable to modern readers and cooks. The archive of manuscript recipes we're working with is completely public and available to anyone with internet connectivity, but that does not mean that there are no obstacles to accessing it. In the spirit of removing barriers of access to this archive, each of our posts include these key elements: clear citations to the digitized manuscript and cataloging information, a facsimile of the recipe in the manuscript, a diplomatic transcription completed to academic standards, definitional comments relating to ingredients, an updated recipe in modern format, and notes and images from our cooking attempt.
¶ 5 Leave a comment on paragraph 5 0 In updating these recipes, we are not recreating the experience of early modern cooking; we deliberately use the tools and ingredients readily at hand to twenty-first-century cooks. However, we did begin with a desire to taste the past. Taste is the elusive element that we try to recreate when we cook these historical recipes. The recipes in this archive are dominated by strong tastes: fresh and dried herbs, fragrant spices, citrus, offal, cream, custard, distilled orange flower and rose waters, wine and sack. Many recipe books include recipes for preserving these very flavors, including flower waters, syrups of violets, rosemary tincture, homebrewed liquors, and preserved fruits and vegetables of all kinds. It's an archive of intense flavors that capture each ingredient and each season in its prime. We honor this tradition even as we add tastes from our own supplies, adding familiar flavors like salt, cinnamon, and vanilla. If a project like Cooking in the Archives offers a new method for manuscript study, and we think it does, we need to keep the question of taste at the center of our process. What are we tasting? The past or something new?
¶ 6 Leave a comment on paragraph 6 0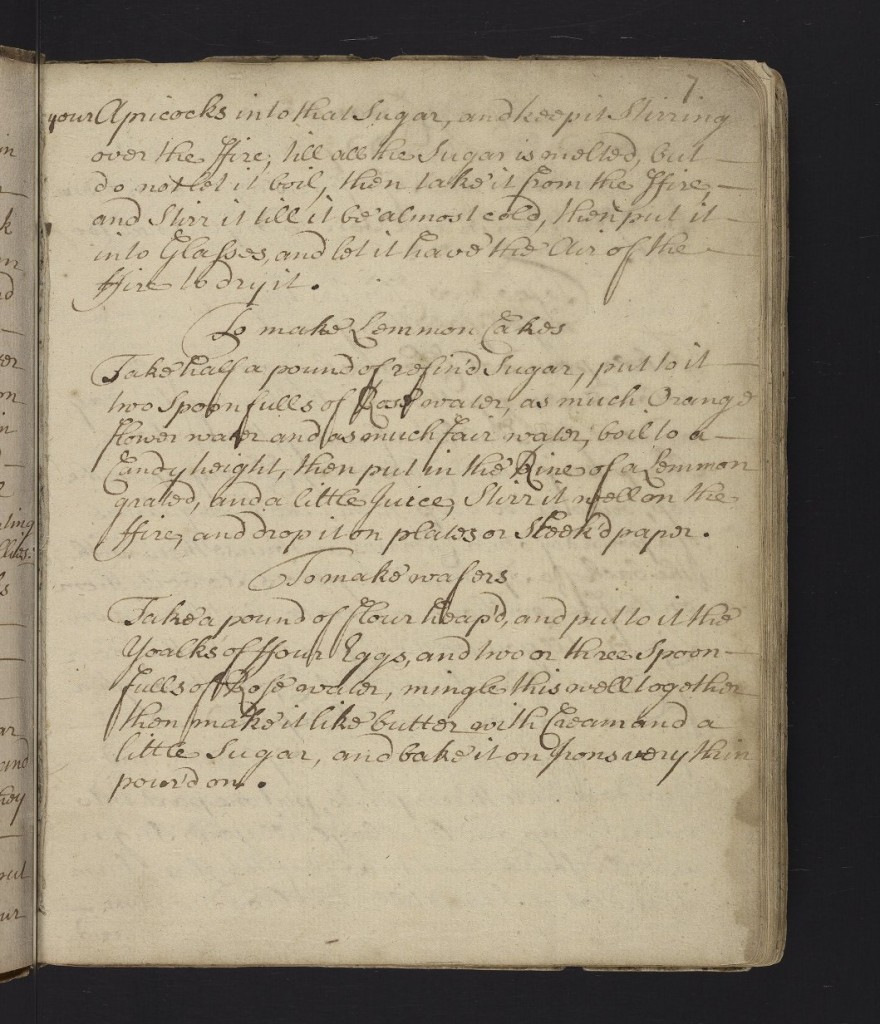 "To make Lemmon Cakes" MS Codex 785, 7.
¶ 7 Leave a comment on paragraph 7 0 One example illustrates such questions as well as our methodology. Flipping through MS Codex 785, we were intrigued by a recipe for "Lemmon Cakes." These lemony sweets turned out to be hard, lozenge-like candies, not cakes, and perhaps intended for consumption after a meal. Sugar is cooked with lemon juice and rind, orange blossom water, and rosewater. The resulting candies are deeply floral and sweet. In addition, when Marissa prepared a batch she slightly burned the syrupy candy mix as it bubbled on the stove and unintentionally added a deeper savory note to the mix. On the one hand, this mistake prevented us from tasting the recipe's intended flavor; on the other hand, it's likely that someone preparing these candies on an open hearth 300 years ago might have burned them slightly, too.
¶ 8 Leave a comment on paragraph 8 0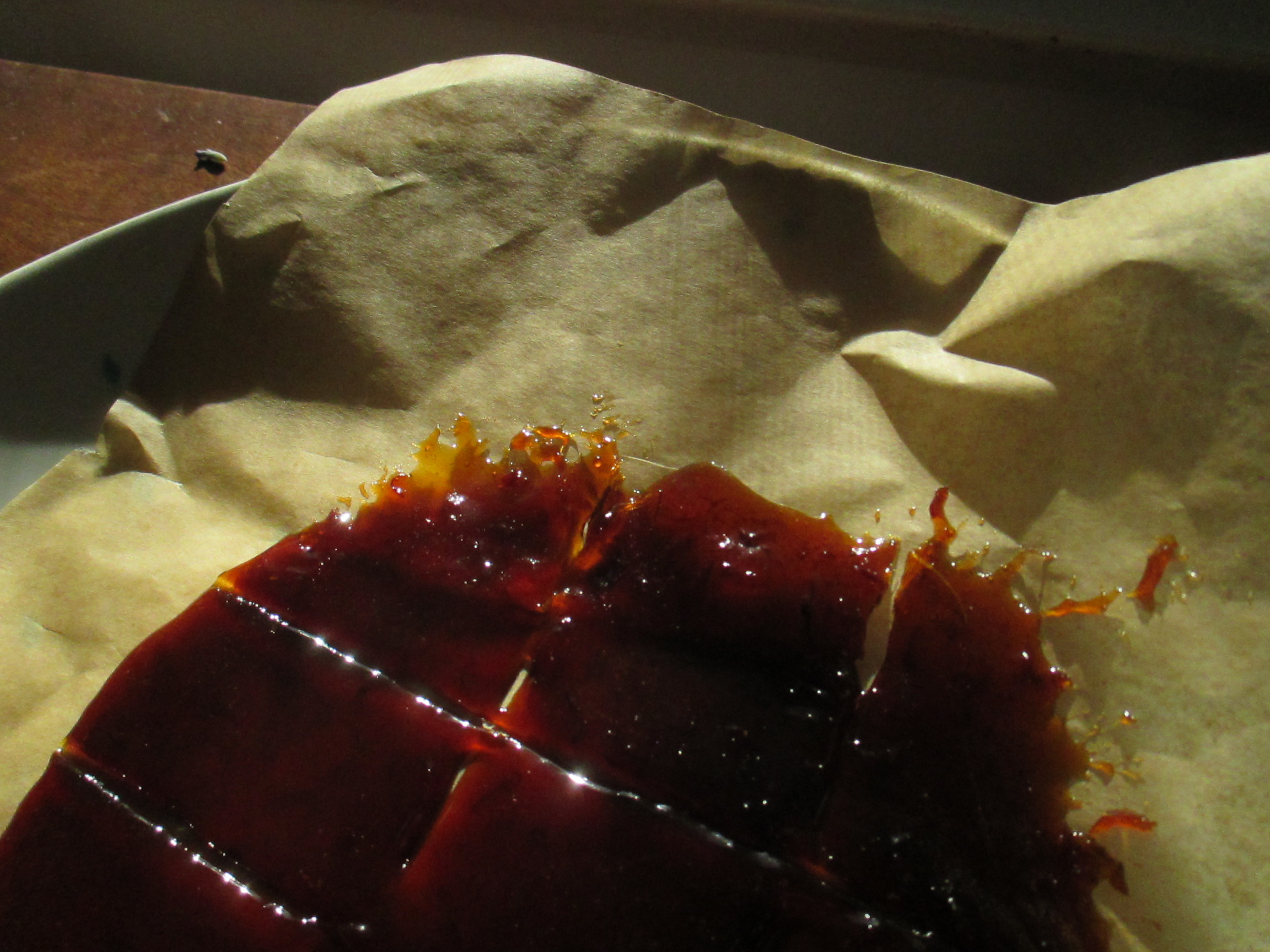 Our "Lemmon Cakes."
¶ 9 Leave a comment on paragraph 9 0 It is also worth noting that our act of updating is not the first time this recipe changed hands: not all recipes found in manuscript recipe books were original creations of the cooks who wrote them down, and these "Lemmon Cakes" were not simply created by the compiler of MS Codex 785.
¶ 10 Leave a comment on paragraph 10 0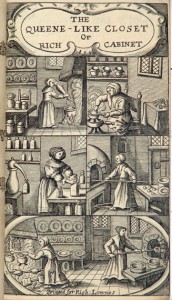 Hannah Wooley, The Queen-like Closet
¶ 11 Leave a comment on paragraph 11 0 We found that these "Lemmon Cakes" from MS Codex 785 were copied directly from Hannah Woolley's well-known cookery book, The Queen-like Closet or Rich Cabinet: Stored with all manner of Rare Receipts for Preserving, Candying and Cookery. Very Pleasant and Beneficial to all Ingenious Persons of the Female Sex (1670). Moreover, the compiler of MS Codex 785 not only copied the recipe for Lemmon Cakes, but also for a range of other recipes for preserves, biscuits, and other dishes. In the early sections of the manuscript the order matches Woolley's exactly. Modern cooks know instinctively that recipes aren't always new; so did eighteenth-century cooks. Our own methods of updating are part of this long tradition of circulating and translating recipes among individuals and media—copying printed works into manuscripts, mailing a recipe card, posting on a blog.
¶ 12 Leave a comment on paragraph 12 0 Archival work done in person is physical work: we feel the pages of a manuscript, take care with crumbling corners, squint at faded ink, smell the intoxicating aroma of old book. But that is usually as physical as scholarly research gets. What this project has allowed us to do is incorporate other senses into the research process: smell and touch, but taste, too. The physical labor of making a recipe, measuring ingredients, and patting dough into balls is distinct from turning the pages of a book or typing up a scholarly report on findings from that book. And while our stainless steel measuring cups, silicone spatulas, and stand mixers don't provide the same tactile experience that early modern cooks would have had, the flavors we create in the kitchen can mimic their early modern predecessors. Cooking in the Archives also links archival research to other (modern) cooking that we do on a regular basis. In this way, the archives become much closer to our daily lives and the lives of our readers.
This archive of recipe books is fully accessible online; Penn digitized its early modern manuscripts with an NEH grant in 2009. We are grateful for the GAPSA-Provost Award for Interdisciplinary Innovation from the University of Pennsylvania that provided us with start-up funds for this project in June 2014. [↩]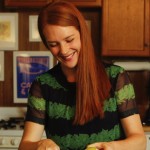 Alyssa Connell
PhD Candidate in English – University of Pennsylvania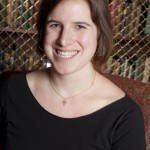 Marissa Nicosia
Assistant Professor of English – Penn State University - Abington